123 Counting Number Kids Games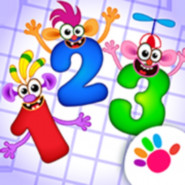 Our Service
We offer you the app promotion service that will help you reach all the listed goals. Compare the service packages and select your own for getting the needed results.
Details
There never was such a SuperInteresting and SuperIntriguing way to learn numbers!!!
"SuperNumbers!" is a happy game for children to learn counting from 1 to 10.
While playing with little number-characters your child will learn numbers and how to write them. They will master counting and learn the correlation between numbers and quantities.
"SuperNumbers!" app offers many amazing educational games:
• FIRST EXPOSURE TO NUMBERS AND THEIR NAMES.
"Catch the NumBlot!" Collect the needed NumBlot in the bucket with paint.
• LEARN HOW TO WRITE NUMBERS.
"Draw SuperNumbers!" Draw your own SuperNumbers with help from the magical paint.
• LEARN TO COUNT FROM 1 TO 10.
"Feed the SuperNumber!" Catch and count the food for the hungry SuperNumber.
• CORRELATION BETWEEN NUMBERS AND QUANTITIES.
"Puzzle-hide and seek with SuperNumbers!" Catch all the rogue SuperNumbers and put them onto their correct place.
FEATURES:
• SuperAmusing characters.
• SuperEntertaining education.
• SuperHilariuos animation!
• SuperVariuos games!
• SuperFunny sound effects!
• SuperMerry music!
• SuperComfortable interface!
• Parental control
• No outside advertisements!
We are sure that "SuperNumbers!" will help your children take their first steps into the big world of mathematics, awaken their curiosity of the new and bring joyous times into their lives.
More about Bini Bambini:
Bini Bambini is a group of very enthusiastic professionals including designers, artists, animators, programmers and musicians. We create digital games for children. Our goal is to create educational and developmental games for children. It has been established that children learn about the world through games and having fun. Playing games for children is as natural as breathing. That is why we are focusing on developing apps which enhance creativity and stimulate kids' natural curiosity.
Please note that all our games are safe, and they do not collect any personal information. They are also free of third-party advertisements. Our games are fun for children and their parents alike.
Thank you for downloading our app!
If you liked our app please, give us a positive review in the App Store. We would be very happy to hear from you! It would inspire and help us to create more splendid Apps for your children. And, if for some reason you encounter a problem, we kindly ask you to contact us directly at
[email protected]
before leaving a bad review in the App Store. We are open to communication and will be happy to fix any problems that may occur.
There is only a part of the content available in the free version of the application. To gain access to the full version, you will need to make a built-in purchase.
Screenshots