AnyMote Smart Universal Remote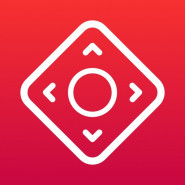 Our Service
We offer you the app promotion service that will help you reach all the listed goals. Compare the service packages and select your own for getting the needed results.
Details
Turn your iPhone or iPad into the most powerful remote to control the devices in your home. Download or create beautiful remotes so you won't need to look for your plastic ones around the house. You can forget about switching to separate apps for each of your smart devices.
Control your TV, DVD or BluRay Player, Set Top Box, Audio System, Air Conditioning, Media Player and many more, all using our beautifully designed, simple to use smart remote application. From a simple TV remote to a complex universal remote that commands absolutely everything in your home, AnyMote can make your smart home easier to control.
We're committed to continuously provide remotes for smart devices controlled either through IR commands or over the WiFi network.
• SMART REMOTES: Create single remotes to have commands from all your devices.
• MACROS: Chain commands and have them executed in sequence (Movie Mode, Custom TV Channels, Light Patterns–sky's the limit)
• AUTOMATED TASKS: Set commands to be automatically executed by the app based on certain factors (Sunset/Sunrise, Timer, Volume buttons...)
• TODAY WIDGET: A special remote control that sits in your Today Notifications so you can execute most used commands without opening the app
• SIRI: Use Siri Shortcuts to execute commands through AnyMote
• VOICE CONTROL: Use your voice to execute commands through AnyMote. No external device needed!
• WATCH APP: Your favorite remotes at your wrist so you don't have to even unlock your phone.
• GESTURES: Use this section of the app without any distractions using gestures such as tap, swipe and rotate for most used commands.
• EDIT: AnyMote has a powerful remote editor that allows you to customize each remote to make it your own.
Infrared (IR) Remotes:
Control over one million devices over Infrared (you need an AnyMote Home IR Hub, a Broadlink RM or Global Cache iTach for this functionality). Make those devices smart by combining remotes into a single universal remote, set automated tasks or create complex commands made up from sequences of simple commands via the use of Macros.
We support over 99% of all brands in the world with devices such as TVs, Set Top Boxes, Air Conditioning, Video Game Consoles, Media Players which can be controlled via Infrared.
WiFi Remotes:
With more and more devices supported every month, AnyMote allows you to control the lighting, audio, video, electrical appliances in your home using just one app.
• Light: Control your Philips Hue, LIFX, Limitless LED, MiLight, Belkin, Insteon lights' brightness, color, power state
• Smart TV: Control your Samsung, LG, LG with WebOS, Sony (except Android TV), Sharp, Panasonic, Philips, Vizio (SmartCast™) smart TV sets including support for text entry, apps, channels, inputs
• Set Top Box: DirecTV, Onkyo, Amiko, TiVo
• Power Sockets: Belkin, Orvibo, TP-Link HS100/HS110
• Media Players: Roku, Plex, WDTV Live, Fire TV, Boxee, Kodi/XBMC, VLC
• Sound Systems: Sonos, Yamaha RX-V, Denon Receivers
You don't need any external device to control them, but for some of them you need to be connected to the WiFi network to send commands.
---
You will need an AnyMote Home IR hub, a Broadlink RM or Global Cache iTach to control older IR devices. This is not necessary for WiFi devices.
Please contact us if you're having any issues in using the app. We do our best to make everyone using our app happily. You can use the feedback form in the app to send us feedback of any kind, we take every single one into consideration.
• Email us if you're having problems/questions:
[email protected]
• Follow us on Twitter: @anymote and tweet us your comments
• Like our Facebook Page: https://facebook.com/AnyMoteHome or send us a message there
• Check out our Tutorials: https://www.anymote.io/setup
• Read our blog: https://blog.anymote.io
Screenshots