Baby Boss - King of the House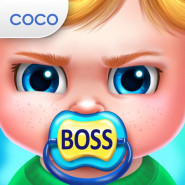 Our Service
We offer you the app promotion service that will help you reach all the listed goals. Compare the service packages and select your own for getting the needed results.
Details
~~> Baby Boss is here, and he's got an attitude! He needs YOU to keep him happy!
~~> Dress your baby up in the coolest outfits and feed him EXACTLY what he wants!
~~> Take him to the park, tuck him in… try anything to make sure the little rascal won't get mad!

It's Baby Boss time! Your naughty baby knows what he wants, and he needs YOU to take care of him! Feed Baby Boss just the right food, or he'll throw it in your face! Help him win the baby race! Have a fun-filled day with the little handful at the park… just keep him happy OR ELSE!

Features:
> Take care of Baby Boss and try to keep the naughty guy happy at all times!
> Dress the mischievous baby up in bad-boy outfits that match his attitude!
> Make yummy food for your baby, but watch out - He might throw it at you!
> Playground time! Push Baby on the swings, bounce him on the bouncy castle, and much more!
> Help Baby ride his tricycle in style and win the baby race!
> Let Baby snorkel in the tub with his rubber ducky, but don't let him splash you!
> Take Baby to the doctor - make sure he gets enough lollipops to keep him smiling!
> Say cheese! Take selfies with Baby Boss in the photobooth!
> Tuck Baby into bed and tell him the perfect bedtime story or he'll throw his teddy at you!
Screenshots