L.O.L. Surprise Watch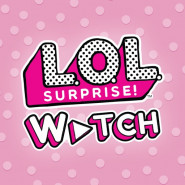 Our Service
We offer you the app promotion service that will help you reach all the listed goals. Compare the service packages and select your own for getting the needed results.
Details
Stream and download all of the family-friendly L.O.L. Surprise videos with the L.O.L. Surprise Watch App. Check out videos with Diva, Queen Bee, M.C. Swag and all of the L.O.L. Surprise B.B.s! Save your faves or watch them all! Find Unboxed episodes starring Tahani and Mykal-Michelle, playisodes and much more! Excited yet B.B.s?!
Instantly watch L.O.L. Surprise videos all for FREE anytime, anywhere.
Features:
Get instant access to L.O.L. Surprise videos
Save your fave videos for later
Browse playlists
Family-friendly and ad-free
L.O.L. Surprise Website: www.lolsurprise.com
L.O.L. Surprise suggestions and support, please email us at:
[email protected]
Screenshots