MorphVOX Pro 4 - Voice Changer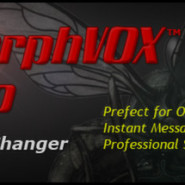 Our Service
We offer you the app promotion service that will help you reach all the listed goals. Compare the service packages and select your own for getting the needed results.
Details
About This Software
MorphVOX Pro
will change your voice online and in-game. Take your voice-changing to a new level with superior voice-learning technology, background cancellation, and sound quality.
Optimized for online games
. Use it for changing your voice to role-play and add fun to online games. Sound like the character you play in-game whether you choose to be a grumpy dwarf or a mighty giant.
Superb voice changing algorithms
and ultra-quiet background cancellation make it one of the cleanest-sounding voice changers available on the market. Its high-quality sound is perfect for creating voice-overs for your latest video or audio project.
Download more voice and sound packs
adding many new voices and sounds effects to MorphVOX. Tweak each of these voices to your heart's content to produce many voice combinations.
Try out the "Backgrounds"
feature which lets you add any background sound while you talk. Fool your friends: sound like you're in the middle of a traffic jam or shopping at the mall.
Standard Features
MorphVOX Pro has many premium features that distinguish it from other software products on the market:
Advanced voice-learning algorithms for best quality sound

Full integration with online games and chat programs

Low bandwidth and CPU usage for excellent performance

A large library of free voice and sound effect packs

Backgrounds - sound like you are somewhere else

Add your own sounds effects and backgrounds

Advanced vocal tract filters for unlimited tweaking

After Effects: add environmental effects to your voice

Quick Voices: switch your voice with a single keystroke

Quick Effects: Play any effect with a single button

Audio Alarms: announce the time or play a clip.

Morph audio files or record your morphed voice to a file.
Screenshots