Photo Text Editor ✎ Write on Picture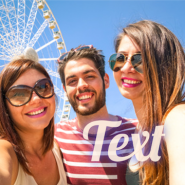 Our Service
We offer you the app promotion service that will help you reach all the listed goals. Compare the service packages and select your own for getting the needed results.
Details
Photo Text Editor: Add text to your photos and pictures with this easy text editor app.

Add text on photos easily with Photo Text Editor - Write on Picture. Just select your photo, ✍ write your message text in the editor and press the Auto Effect button for instant cool looking text. Or choose manually from a large selection of fonts and effects. ✉ Share with your friends with one click.

Photo Text Editor features:
✎ Select photo from Camera, Gallery or Facebook. Quick select of the image you used last time
✎ Write text, drag it on your picture
✎ Scale and rotate text with multitouch
✎ Automatic text effects, fancy 3d looking text, various styles with no effort with a simple editor
✎ Optional advanced controls for expert use with many fonts and styles
✎ Many emoji, stickers and stamps are also available 😍😂❤️
✎ Optimize your background photo with nice image effects
✎ Quick direct share to Instagram, Facebook and WhatsApp or just save it to your own photo gallery

The emojis are based on Twemoji by twitter: http://twitter.github.io/twemoji/
Please rate us in Google Play to support this free app. Enjoy!
Screenshots