San Francisco Muni Bus Tracker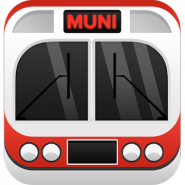 120search.net is not an official representative or the developer of this application. Copyrighted materials belong to their respective owners. We provide the official download links to legal sources like official websites, Steam, PlayStation Store, Nintendo eShop, Google Play Store, Apple iTunes, and others.
Our Service
We offer you the app promotion service that will help you reach all the listed goals. Compare the service packages and select your own for getting the needed results.
Details
Get real-time bus arrival predictions and the published schedule for San Francisco Muni, SF Muni, sfmuni, the bus agency serving San Francisco, California.

FEATURES

+ Get real-time bus arrival and departure predictions

+ Get bus route schedules

+ Get predictions of bus stops near you

+ Favorite your stops so that you have immediate access to their predictions.

+ Favorite your routes so that you can quickly lookup a list of stops and get their predictions.

+ Get predictions from other routes that share the same stop all in one screen.

+ Simple, straightforward, and easy to use.

+ Route Maps, Stop Locations, and Vehicle Locations


FEEDBACK
Please let us know of any feedback that you may have. We want to make this application as useful to you as possible. If you find any problems, don't hesitate to contact us.

This application uses NextBus services.
Screenshots