Word Life - Crossword puzzle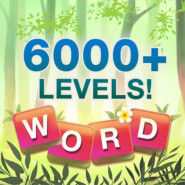 120search.net is not an official representative or the developer of this application. Copyrighted materials belong to their respective owners. We provide the official download links to legal sources like official websites, Steam, PlayStation Store, Nintendo eShop, Google Play Store, Apple iTunes, and others.
Our Service
We offer you the app promotion service that will help you reach all the listed goals. Compare the service packages and select your own for getting the needed results.
Details
Thousands of levels, three different game modes, and regular special events to play! Download Word Life for free and start training your brain today.

Your daily brain training is now called Word Life! Discover stunning landscapes while you sit back, relax, and play word puzzles.

Unveil hidden words by combining letters and learn new ones with the app's dictionary. Puzzles start easy, but get challenging fast! Do you feel like refreshing your French? In Word Life, you can have different progress paths in several languages.

If you feel like going for an extra challenge, you can try out the Multiplayer mode, in which you'll be able to outsmart your opponent. Keep your brain fit and bask in the beauty of nature with Word Life.

Embark on this beautiful journey and level up your mental agility while you progress.

- Feel calm and inspired by the beauty of nature.

- Exercise your mind with new challenges every day with the Daily Puzzles.

- Test your wits in the exciting Multiplayer mode.

- Stay sharp with the three different puzzle modes.

- Have hours of fun with thousands of levels.

- Keep your progress throughout different languages.

- Learn and collect fun facts and stickers about lots of animals in the world.

The word puzzles in Word Life can be played in English, Spanish, French, German, Italian, Brazilian Portuguese, and Russian. You can switch languages and keep your progress in all of them.

Sit back, relax, and train your brain with Word Life!

Word Life is FREE to download and FREE to play. However, you can purchase in-app items with real money. If you wish to disable this feature, please turn off the in-app purchases on your phone or tablet settings.

License Agreement: https://www.take2games.com/eula/
Terms of Use: https://www.take2games.com/legal/
Privacy Policy: https://www.take2games.com/privacy/
Do Not Sell My Personal Information: https://www.take2games.com/ccpa/
Screenshots